Welcome Mortals!!! Beware the animeless!

Random things that I (Magujie) have to say because I am trying to make our site look a little bit better...
Anime Weekend Atlanta rocked to the max.!!! That is all we have been talking about and will for probably another month or two.
And guess what?
More Birthday parties!!!!


HAPPY BIRTHDAY Magujie, Debbie, Burian, Tobbes, & Jamers!!!


Magu is 19 bwahahahaha!!!


You have entered The Moron Zone.

Any random acts of dippiness shall be considered free of will and not the responsibility of any of us...Even though we are all insane. What ever you do, make sure Bob doesn't get to the Almighty Chicken of Doom, for if it dies...Well, that is another matter.

I want chicken, I want liver. Meow mix, Meow mix, please deliver!!!

Ok, before you go running in terror or something like that, please check out our gallery. We have pictures (although not too many at the moment) of us as anime characters, as well as the anime characters, so you can look and be amazed or extremely frightened.

If you want to know why we have such cool costumes...
Magujie's mom is a nice woman who makes them. Check out her web site too! She will make things for you too! Go to our Custom page for the address!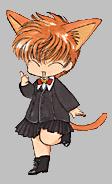 Mwahaha! The cute kitty girl of doom!
Talk to the Magu & Maru!!!